Travelling to La Palma
(Santa Cruz de) La Palma has airport code SPC, and should not be confused with either Las Palmas (de Gran Canaria - on another Canary Island, airport code LPA), Palma (de Mallorca - on the Baleares in the Mediterranean, airport code PNI) or Santa Cruz de Tenerife (capital of another Canary Island) or S. Cruz (possibly more than one in the Americas).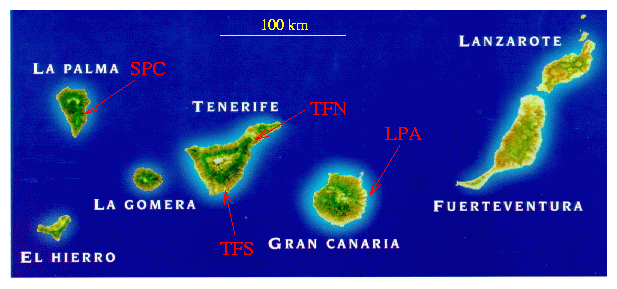 Flights from continental Europe
Scheduled flights. There is one daily direct return flight Madrid - La Palma, operated by Iberia (part of the OneWorld alliance with American Airlines). This flight leaves quite early from Madrid and, to connect to it, one is in most cases forced to spend the night in Madrid.
Frequent connections (about 5 daily) are available from Madrid and Barcelona to the airports of the largest Canary islands, i.e. Tenerife Nord (TFN), Tenerife Sud (TFS) and Gran Canaria (LPA). Transfers to La Palma can be then performed using the inter-island flights or boat connections (see below).
Charter flights. There are no direct charter flights from Italy to La Palma. However, there are several charter flights direct to La Palma from several cities in Germany, and from Switzerland, the Netherlands, and the UK. Some of these flights can be booked as scheduled flights, in connection with intercontinental flights. Check out Lufthansa for the flights to La Palma from Germany with their daughter Condor, or KLM from the Netherlands on Transavia.
There are many charter flights from all Europe (Italy included) to Tenerife and Gran Canaria. Most charter flights to Tenerife operate from the south airport (TFS) and a transfer to the north airport will take at least one hour driving time, so at least about 3 hours must be accounted for. You can travel between airports by taxi (cost maybe around 60 Euros), by bus (direct or via Santa Cruz de Tenerife) or by rental car (ask for one-way to the north airport, there are often cars available at a cheap rate).
Inter-island flights and ferries
There are frequent inter-island flights from Tenerife (north airport, TFN) to La Palma (SPC), and twice a day from Gran Canaria (LPA). Flights are operated by Binter Canarias and Islas Airways. They take about 20 minutes from Tenerife and 50 minutes from Gran Canaria. More frequent connections between Gran Canaria and La Palma are also possible with a stop-over in Tenerife.
A fast ferry service is also operated daily between Santa Cruz de La Palma and Tenerife by Fred Olsen. The boat leaves Los Cristianos (a couple of km from the Tenerife South airport) in the early evening and reaches S. Cruz de La Palma in the late evening. Trasmediterranea operates one or two ferries a week between La Palma and Tenerife.
Travelling and staying in La Palma
From the airport one can use a taxi or take advantage of the efficient public bus service which connects the airport to the main town of S. Cruz and the turistic village of Los Cancajos (see map). Tickets can be purchased on the bus. No public transportation exist to/from the Observatory (Roque de Los Muchachos, inside the Parque Nacional Caldera de Taburiente). Visiting observers normally travel by taxi, which could be booked in advance from the Hotel or from the "residencia'' at the observatory.
The village of Los Cancajos and the town of S. Cruz de La Palma offer a wide choice of hotels and apartements. Some of these are listed in the Mercator Telescope and ING web pages. Remember to say that you are an astronomer coming to work to the "Observatorio Astrofisico" when you make your reservation. Lodging at the observatory is provided by the "ORM residencia" which must be booked via the dedicated IAC web page.