The new headquarters of the Fundación Galileo Galilei - INAF officially inaugurated
The Italian astronomical community strengthened its presence on the island of La Palma after the opening of a new installation of 1000 square meters in San Antonio, Breña Baja. Starting from October 19th 2007, the new scientific center is officially the headquarters of the Fundación Galileo Galilei (FGG) - INAF (Fundación Canaria), the organization managing and running the Telescopio Nazionale Galileo (TNG).
The new installation in Breña Baja was inaugurated by the commissioner of INAF (Italian National Institute for Astrophysics), prof. Sergio De Julio, at the presence of several local authorities, of the TNG staff and of important personalities of the Roque de Los Muchachos Observatory (see below two photos of the ceremony).
De Julio claimed that the opening of the new center underlines the intention of INAF to continue the TNG activity and to strengthen the scientific collaboration in La Palma.
The headquarters of the FGG-INAF host at present 32 employees among astronomers, engineers and technicians. It is located within a few hundred meters of the Centro de Astrofisica de La Palma (CALP).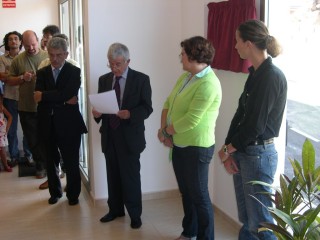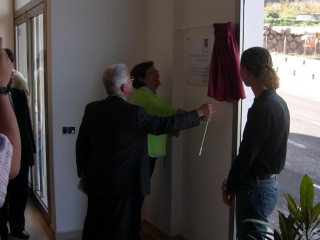 Two moments of the inauguration ceremony (courtesy of Carlos Gonzalez)