OPTICON call for proposals (2017A) open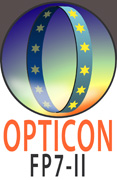 The OPTICON Horizon 2020 proposal has passed the evaluation stage and the proposal is now in the grant preparation phase. Contract signature is expected before the end of November. Subject to contract signature the TNA process runs as usual. The call for observing time at night time telescopes supported by the OPTICON Trans-National Access programme will close on 25 September 2016 at 23.59UT exactly. This call is shorter than usual due to the date of the contract announcement.
The TNG semester runs from 1 April 2017 to 30 September 2017. NB. Technical support for the submission software is not provided out-of-hours and late applications will not be accepted so please complete your application in plenty of time.
For complete info follow this link.